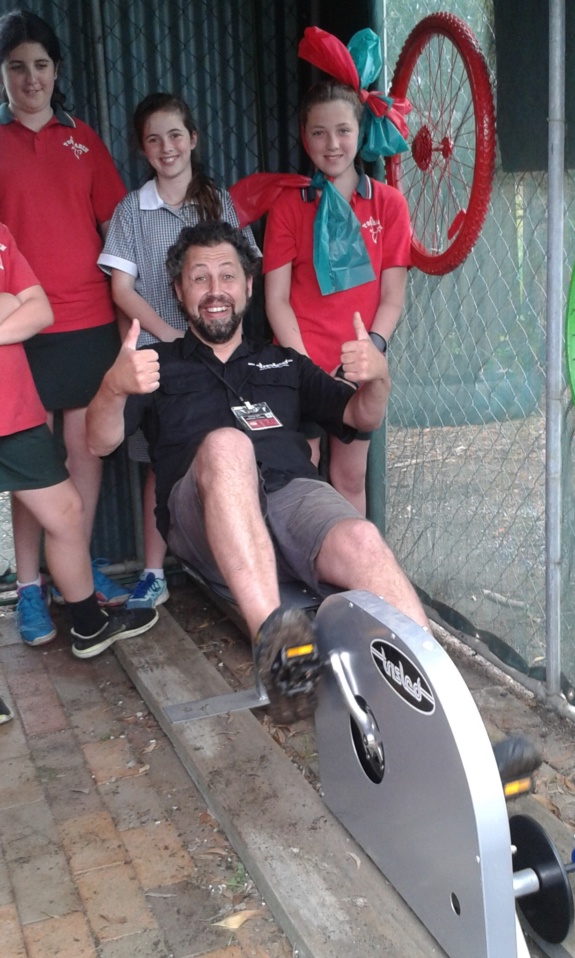 Back to Blog
Trisled owner Ben Goodall's reflection on his brief involvement in a Tooradin Primary School's sustainability programme:
"A couple of months back I was approached by Rachel Davis to build of all things a pedal powered water pump. Rachel is the principle of Tooradin Primary School Principle and together with her colleges and the greater community, instigating an extremely progressive sustainability programme. My immediate reaction was "sure why not!" having built hundreds of different human powered contraptions I realised that a water pump was still to be ticked off the bucket list. In the banter that followed statements like "what could possibly go wrong!" and "how hard could it be?!" showed that Rachel had clearly caught me at a weak moment!
Back at the shop I began rationalising the build. This was to be my first 'agricultural machine' and I quickly realised why farming equipment is built so heavy. This thing needed to be bomb proof! It was going to be living out its service life in a damp corrosive environment. On top of this it needed to be easy to understand and service as the next person to lift the cover for maintenance is more likely to know more about plumbing and horticulture than bicycles. This was no time for gram counting. This thing is to be built strong! Everything thick steel and corrosion protected…however I stopped at painting it John Deer green 🙂
On opening day the staff and students took the time to show me the importance of what we had created. On arrival I was greeted by students holding a plate of fresh rice paper rolls they had prepared that morning from produce grown in the school garden. Much of the school grounds are taken up with all sorts of horticultural projects. Students took me on a tour of the hot houses, chicken coop, fruit trees and vegetable patches. Each of the grades has their own raised bed veggie patch which they are responsible for. I quickly became the student as their knowledge of what was grown where exceeded mine. Our pump had been installed in a shed beside the main water tank and three large watering cans placed ready for service beside the outlet. It was clear that like the rest of this very functional garden, a system and process had already been applied to put the pump to work daily!
Following the tour and official opening of the pump shed, my mind immediately returned to those rice paper rolls that were waiting for me in the staff room. As I tucked into one, several very proud students talked over each other to tell me all the things that we in them, how they were made and what produce that came from the garden. It was clear to me that some of these kids were probably better cooks than me! Much of the knowledge they had gained I did not know till my early 20's and in some cases just learned! It's so common these days to hear stories of "they don't teach kids what I learned at school anymore" but this experience completely bucked that trend for me. I would have loved to have had this when I was at school in the 80's."