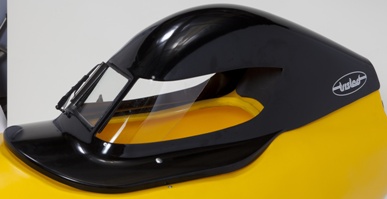 Rotovelo Raincover – Windscreen wiper
This Rotovelo raincover has 3 sections (front & each side), the front of which has a glass panel with a manual windscreen wiper and the sides are covered with PETG. The 2 sides are covered about 2/3 of the length, allowing air from the footwell to exit to the rear of the riders head. The wiper allows the outside of the front panel to be cleared of rain.
Comes supplied with 2 bungees to connect to the normal closure buttons on every Rotovelo.