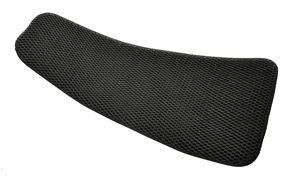 Ventisit Comfort seat pad – Rotovelo
Ventisit comfort seat pad to suit Trisled Rotovelo, 86 x 36cm 3cm thick.
The Ventisit cushions/seat pads are made with a three-dimensional knitted polyester yarn. The resulting open structure provides optimal ventilation and comfort with a clearly evident yet not too soft suspension thus offering a comfortable and secure seat.
The product is extremely durable, does not absorb moisture, is UV insensitive, odour free, colour-fast (only available in black) and will remain in good condition even after years of use. It is also very easy to clean.
Attaches to seat with supplied sticky back velcro tabs.