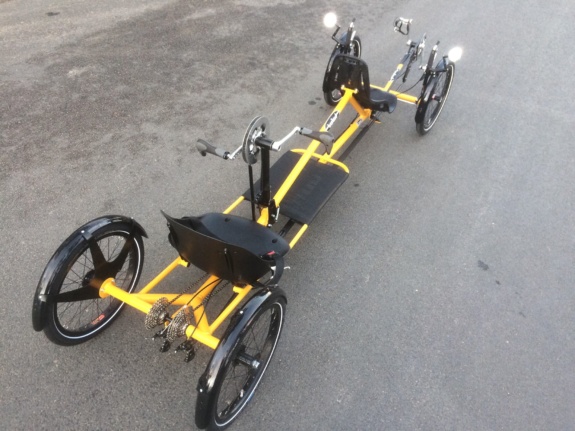 Back to Blog
Rideability Australia approached us to build them this custom tandem with some interesting features. The goal was to give a riding experience to those who would normally be unable, as well as be user friendly enough to be handed around a number of different able bodies front riders. We saw this as a great opportunity to put a few fresh ideas we have to the test:
Four wheels! One of the frustrating things with long tandem trikes is the high amounts of torsional flex they have. We hit upon the idea that we could turn this into an advantage in the four wheel format. In this layout the few degrees of torsional flex serves as a simple robust way to keep both drive wheels on the ground.
Independent drive. One of the cool things about going to four wheels is the ability to give each rider their own drive wheel. This both serves as a differential of sorts as well as giving each rider their own gears and ability to freewheel. This is now the second tandem we've applied this to and it's a really neat set up.
Indexed Crank system, new application! Our new instantly adjustable crankset for racing HVP's gives 140mm of boom adjustment so it was obvious that this would be a great addition to the front seat. This means that riders of all sizes can share this roll. In addition to this we applied the same mechanism to the rear hand crank boom. In this roll it both serves as adjustment and as a way of moving the cranks out of the way for rider transfer.
We are very pleased with this build and very happy to build more custom tandems around this four wheel format on request. We particularly think it would make a great touring machine with loads of space for gear and the stability of four wheels for descending!