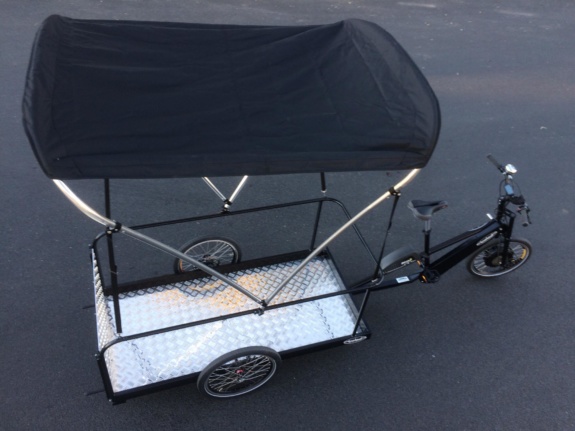 Back to Blog
Sometimes when custom building bikes you get to have another go at an idea you've already done. Improve it, think it through a little more, make it better!
The very first prototype of the Trisled Maxi cargo trike was designed to carry a wheelchair. The front wheel drive meant we could make the load deck super low and easy to get the chair up onto. This humble prototype paved the way for over 100 builds and several standard models of Trisled! It's flexibility means you can make almost any cargo section and carry almost anything!
When Yvonne approached us to build a wheelchair taxi for her grandfather we said "sure we've made one of them before". But this time around we were able to include a few features into the machine to make it more utilitarian and generally useful. Handrails double as a way to hold general cargo in, sun shade means it can be used in the middle of the day and the electric assist makes the useful max load weight is almost double. Not only will it hold a wheelchair but it is also an awesome mega cargo trike!
Vyonne runs Alice Springs bike shop My Ride and this bad boy will now be their Human Powered Ute during the week, Mobility for the family on the weekend! Great build!
Check out our original wheelchair carrier build here: http://trisled.com.au/low-deck-cargo-trike/