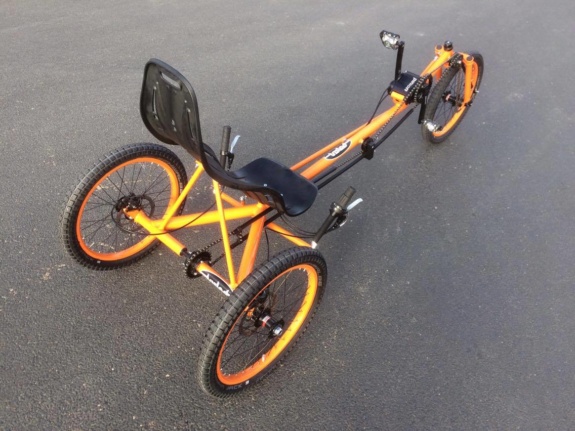 Back to Blog
We've built a few Fat trikes recently. The appeal being the 'go anywhere' capacity of their massive 4" tires. While they are great fun and the big tires help a lot with traction, they are pretty taxing on the legs. The other drawback is that two 26"x4" tires are your new best friends in the seat. If you go wider your ability to go through single track is hindered. If you go narrower your turning cycle in switch backs is limited.
These limitations led me to this prototype all wheel drive delta trike. The delta configuration makes the machine just narrow enough to make it through much of the single track in my local trail network, and the AWD means this thing has amazing drive traction while climbing. This means I can run faster, lighter 2" tires and more pressure giving this machine much better efficiency on the more open trails and roads. The Pinion 18 speed bottom bracket makes it all possible. It greatly simplifies the drive line as well as giving amazing gear range. The ability to select a lower gear while stationary is also really useful in technical sections.
While it will never be as fast as a regular MTB in the trails, It does offer loads of potential and a real expansion of limits for those who cannot ride an upright bike.
We'll be building these via special order in the short term in order to let the idea evolve and improve with each build!